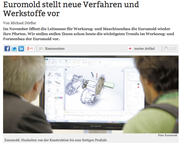 The online magazine of Markt und Mittelstand published the news of the Euromold press conference. G.tecz is mentions as a high-light at the fair with innovative cement bonded materials for mold- and tool making. 
Excerpt Markt und Mittelstand, 03.07.2014; www.marktundmittelstand.de
Materialien für Werkzeug- und Formenbau
>> Werkstoffe sind zudem ein wichtiger Partner der Werkzeug- und Formenbauer. Schließlich hängt es von deren beschaffenheit ab, welches Werkzeug in frage kommt und welche Form angelegt wedren muss. Das ist bei Kunsstoffspritzguss, das fluides Material verwendet, anders als bei der Umformung von hochfestem Stahl. 
Hier will ein Unternehmen eine neuartige Technologie entwickelt haben, die als zementgebundener Werkstoff unter anderem neue Anwendungen beim Herstellen von Formen und im Maschinenbau ermöglichen soll. Dafür gibt es bereits erprobte Beispiele. Bei einer Produktentwicklung für Fassadenelemente ist es durch den Einsatz des neuen Materials im Werkzeug- und Formenbau mit dem Produktnamen Quantz gelungen, die Kosten für eine Form von 600 auf 35 Euro zu senken. 
Auch bei anderen traditionellen Verfahren mixt die neue Mixtur mit. "Die Materialmischung ersetzt Stahl", sagt Gregor Zimmermann, Geschäftsführer der G.tecz Enineering Unternehmergesellschaft GmbH aus Kassel. So gelang durch den Ersatz mit dem neuen Material die Herstellung eines Industrieofens mit eindrucksvoller Isolierwirkung.
Im Inneren des Brennraums herrschen Temperaturen um 1.300 Grad Celsius und die Außenseite des Ofens mit 27 Zentimeter Wandstärke ist gerade mal handwarm. Zudem kann je nach Zusammensetzung der Rohstoffe das Material nicht nur sehr fest sondern auch flüssig etwa für einen Anstrich verwendet werden. <<